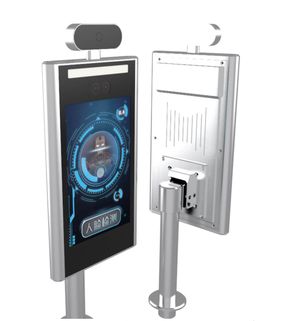 Temperature Screening Kiosk with Face Recognition and Access Control
Temperature Screening are required at Airports, Hospitals, Schools, Community Centers, Work Facilities, and Entertainment Centers. Without exposing staff to illness, the temperature screening works independently as to protect both staff and guests. It provides face recognition to check in/out, and detect users' body temperature and save the record. Once the body temperature is too high, the unit will sound an alarm.
KEY FEATURES
Face recognition with non-contact infrared temperature screening
US based customer support and warranty.
Infrared thermal detection: Detection accuracy: +/- 0.5 °C, temperature detect in milliseconds, temperature-detect distance:1.5-3 feet.
Accurate Face Recognition: Advanced face recognition algorithm in the world, the accuracy is more than 99.7% with an error recognition rate of 0.02%.
3D face recognition, photos and videos cannot pass.
With WDR, infrared, binocular camera and professional processing algorithm, it adopts to harsh lighting environment such as backlight, strong light, weak light. Works during the day and night.
Fast speed recognition: The total recognition time is less than 400ms, including face detection, face tracking, feature points extraction, face comparison and live detection in the case of 20,000 face database.
Voice prompts: It will tell in voice the test result, such as the results of face recognition and temperature, abnormal body temperature, etc.
Remote upgrade: Our product supports remote upgrade automatically when the device is connected to the Internet.
Advertising on display: it supports advertising images in turn on display automatically when there is no face recognition.
Data import and export: Face templates can be imported through a USB flash drive, and access records can be converted into Excel files and exported through a USB flash drive.
Open data interface: We provides HTTP interface connection, which can realize real-time data uploading and downloading, control, remote upgrade, etc.
Multiple interfaces: USB, RJ45 network interface, Wi-Fi, RS232 serial port, NO COM NC relay control output interface, audio output interface.
Multiple installation methods: you can mount it on door, or with a movable stand, or You can also mount it on barrier gate.